Those of you who have been reading along know that I've been fumbling my way through German parish records for the first time, working on two of my family lines with some modest success.
To educate myself, I've been to many German genealogy sessions at conferences, bought (and read) books on German genealogy and history, used Web translators, pestered friends and relations who speak German, and referred to sites that interpret vintage handwriting. And all of those things were valuable and helped.
But sometimes the smartest and most effective thing is to hire a translator.
Last week, I found the marriage record for my great-great grandparents, Friedrich Wilhelm Alexander KIRSCHSTEIN and Florentine Mathilde BRAUN. I could make out the date, the pastor, the names of Friedrich and Florentine and her father Heinrich, their ages, and the dates the banns were announced. And that was about it.
1 Friedrich Wilhelm (Fred) SCHUMANN
————————————————–
Birth:      1834, Germany
Death:    14 Apr 1908, Chicago, Cook, Illinois
Burial:    17 Apr 1908, Forest Park, Cook, Illinois
Occupation:    Ackerbürger (citizen farmer); laborer
Religion:    Lutheran
Ackerbürger (Ackerbuerger) : farmer in a town who has all the rights of a citizen (therefore this term was never used in villages.
Spouse:  Auguste Marie Luise LINDE
Birth:      13 Oct 1835, Freienwalde, Pommern, Preussen
Death:    21 Jun 1886, Chicago, Cook, Illinois
Father:   Carl LINDE
Mother: Luise REINHARDT
Children:
Anna Friedrike Luise (1861-1934)
Marie Auguste Wilhelmine (Mary) (1863-1947)
Elise Ernstine Hermine (Lizzie) (1865->1930)
Friedrich August Wilhelm (Fred) (1872-1950)
1.1a Anna Friedrike Luise SCHUMANN*
————————————————–
Birth:      15 Jul 1861, Freienwalde, Pommern, Preussen
Death:    4 Nov 1934, Chicago, Cook, Illinois
Burial:    7 Nov 1934, Forest Park, Cook, Illinois
Occupation:    Seamstress
Religion:    Lutheran
Spouse:    Bruno Julius Wilhelm KIRSCHSTEIN
Birth:        25 Mar 1851, Rawitsch, Posen, Preussen
Death:      20 Aug 1924, Bremen Twp., Cook, Illinois
Father:   […]
More progress on my Prussian line with the discovery of the birth and baptism record for my maternal great-grandmother, Anna Friedrike Luise SCHUMANN, and on the same wonderful roll of microfilmed parish registers, the names, birth and baptism dates of her three siblings, the names of her parents, and more.
Before I started the research, the only things I knew about my maternal great-grandmother were:
1.    Her name was Anna.
2.   Her mother's name was Augusta.
3.   Her family was (supposedly) from Berlin.
4.    When she died, she was laid out in the front parlor of my grandmother's Chicago apartment. My mother, age 9, is displaced by relatives in town for the funeral and had to sleep on the couch in the same room with the body. (File that under Things We Don't Ask of Our Children Today.)
5.    Anna was divorced from her first husband and became very religious. She was separated from her second husband at the time of her death because she sent quite a bit of Mr. Kahns's money to Billy Sunday, the evangelist.
Not a lot to go on from a genealogical perspective. So here's how the hunt evolved.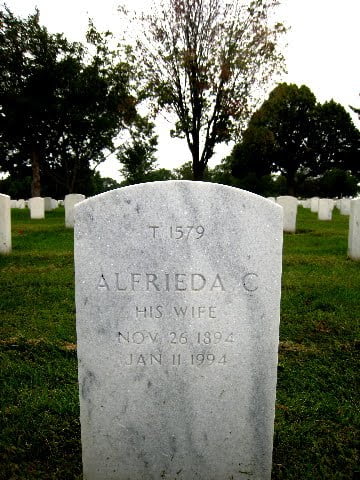 Today's Tombstone Tuesday is about my great-aunt, Alfrieda Charlotte Anna Elizabeth Kirschstein Schaaf. She was my grandmother's baby sister, born in Chicago on 26 Nov 1894, the fourth of four children of Bruno Julius Wilhelm Kirschstein and Anna Schumann. She almost made it to her centennial, dying in New Hope, Hennepin, Minnesota on 11 Jan 1994.
Aunt Frieda is buried in the Fort Snelling National Cemetery with her husband, Norman Joseph Schaaf. I was in Minneapolis a few weeks ago and finally made it to Fort Snelling. This veterans' cemetery is virtually surrounded by the Minneapolis-St. Paul International Airport and I think a jet comes in over this cemetery about every 30 seconds 24/7. While this might not sound appealing to most, I found it oddly appropriate, for my Aunt Frieda loved to travel.
I don't […]