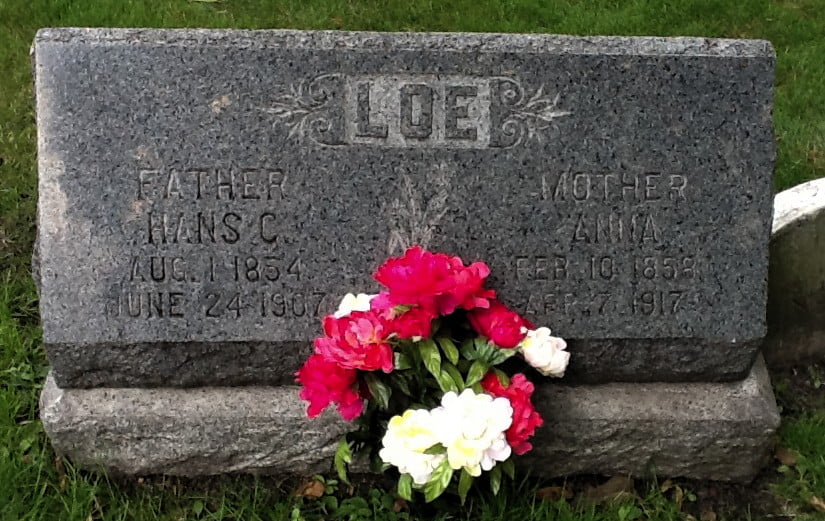 It's only three letters, but if I had a quarter for every time I've had to spell my last name, spell it again, and still ask to have the "w" removed, I could fund a dozen instant research trips to Europe, just like I was starring in an episode of Who Do You Think You Are. (Seriously, what fills me with envy every single episode is the celebrity finding out what town they're from in some far-off country and the next day they jet over to check it out.) Today I'm writing about the birth and baptism of Hans Loe, part 1.
In the fall of 2007, I started a serious search for my father's father's father's line. Family lore provided only this:
My great-grandfather, Hans Loe, came to Chicago from a town called Drammen in Norway at some unknown date.
His last name used to be Christianson, but it got somehow changed along the way.
He was a tailor in Chicago, but used to be a lumberjack in Norway. (Seriously?)
His wife's name was Annie.
He and his wife had all boys, including my grandfather, Edward.
Before FamilySearch put the Cook County death certificates online, it used to take $15 and about 4 months to get a death certificate. I did the happy dance at the mailbox (the neighbors are used to it by now) when it finally showed up. Death from tuberculosis at the age of 52 saddened me – Hans died two years younger than I was when I started looking for him.
While I was waiting, I found a death notice for Hans in the Proquest Obituaries database (thank you, Southern California Genealogical Society Library). That summer, we made it back to Chicago and to Mount Olive Cemetery and found their headstone, complete with birth and death dates.
The cemetery records said Anna bought the plot on 24 Aug 1907 for $65. The salesman at the cemetery let me know that it was an oversized plot and a really really good deal. "A plot like that goes for $10,000 today. And there's room for you, if you're related!" That made me wonder exactly how unhealthy I looked in the heat and humidity of Chicago. But I wondered even more how my hard-working immigrant great-grandmother had come up with such a sum in 1907. (And yes, I've gotten much better at headstone photography – that one needs to be redone.)
Buried with Hans and Anna were two of their sons and her sister and brother-in-law – cemetery jackpot! Nearby were two intriguing headstones: one for an Edward and Karen Loe, who surely had to be related, but how? – and another for Lauritz and Sophia Halvorsen. I remembered finding an 1890 Chicago city directory entry for the firm of Loe & Halvorsen Tailors. Was Lauritz a relative? Perhaps Sophia? I left the cemetery with many new names to research.
That December, I detoured to the Family History Library with a solid birth date and a probable birthplace for Hans. The very nice volunteer who took me in hand whisked me through several searches so quickly that I didn't even know what records we were searching. Every single attempt failed and eventually she had to move on to help others. Covered in gloom, I abandoned Hans somewhere in mid-nineteenth century Norway and moved on to my Swedish great-grandmother's line, where I was so successful it took the rest of my week at the library.
Hans had to wait. And so do you since this is already too long. By now you're asking yourself why I didn't just go to the National Archives of Norway, which has a fantastic digital collection called the Digitalarkivet. The short answer is I'm dumb and the long answer will come next week, when I take up the saga of Hans the lumberjack-turned-tailor and his not-very-bright great-granddaughter.