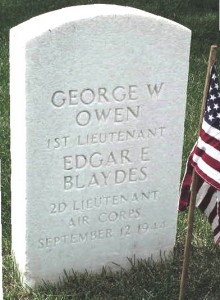 This Tombstone Tuesday is about Lt. George W. Owen, Jr., who was shot down with his air crew over Wackersleben in 1944.
My father's best friend and cousin married George's sister. My mother was helping me with that side of the family and mentioned that they had a good friend who was killed in the war.
There are a lot World War II records, so I was able to find out what happened. George was born in Chicago on 11 Aug 1922. He enlisted in Chicago the day after Pearl Harbor and was eventually assigned to the Mighty 8th Air Force, 493rd Group, 863rd Squadron in England.
On 12 Sep 1944, he and a crew of eight departed from Great Yarmouth:
Owen, George W. – pilot
Blaydes, Edgar E. – co-pilot
Fahey, Donald – navigator
Tipton, L.C. – bombardier
Trunzo, Peter M. – radio operator
Fiore, Roy F. – engineer
Gialloreto, Charles C. – ball turret
Gray, James B. – waist gunner­
Jorg, Luther J. – tail gunner
Their target was Magdeburg, Germany. Over Wackersleben, near Magdeburg, enemy aircraft shot down the Flying Fortress and its nine young men.
The Missing Air Crew Report (MACR) states Owen, Blaydes, Trunzo, and Gray were killed when the plane went down. I haven't yet discovered what happened to the rest of the crew. 
Update: the rest of the crew were taken prisoner, but survived the war. The World War II Prisoners of War, 1941-1946 database at Ancestry says each were "Returned to Military Control, Liberated or Repatriated."
Blaydes's and Owen's bodies were repatriated and reinterred together on 15 Feb 1950 at Camp Butler National Cemetery in Springfield, Sangamon, Illinois. It's often said that genealogy makes history personal, and this is an excellent example. The sacrifice Lt. Owen and his crew made is not forgotten.