Ancestry Shaking Leaf vs. Genealogy Brick Wall. Which is mightier?
As it turns out, the Ancestry shaking leaf is mightier than my brick wall.
I didn't realize it, but for nearly a decade, my Austrian research
has been complicated by looking for a "vagabond" family.
With one Ancestry shaking leaf, that ten-year-old Austrian brick wall fell and a leafy branch sprouts on my tree in its place.* So, I have a lot to say today. You may want to get a snack – or better yet a sleeping bag – for this long post about one special Ancestry leaf popping up in my tree.
Those are my Austrian great-great-grandparents' names. The date is right. But the place is crazy – 1300 kilometers away in Romania. This can't be right. But then again, how many Nothburga Schenks were there in the world?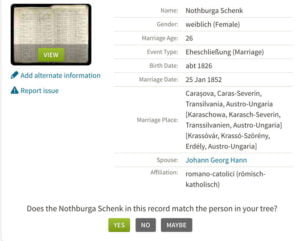 Does the Nothburga Schenk in this record match the person in my tree?

But in the lyrics of a famous Austrian, "Let's start at the very beginning, a very good place to start." I've been looking for Hanns and their related lines for many years.
Great-grandfather Gottfried Hann himself was mysterious at first. He never appears in the U.S. census. He died in 1896 in Chicago at the age of 35, two months before my grandmother was born. All my grandmother knew was that he was Austrian, wore lederhosen on holidays, and his name was either Mannfried or Gottfried.
I went to the Upper Peninsula of Michigan to do courthouse and parish research for his marriage to my Swedish great-grandmother. But no birthplace revealed in his marriage or death records.
Then I used Gottfried's death date to find an obituary in a Chicago German-language newspaper and I had a birthplace at last: Ladis in the Tyrolean region.
Because the Hanns were Austrians Catholics whose records are unavailable here, I hired the professional Genealogin Mag. Julia Pfeifer of the firm Historikerkanzlei Genealogisch-Historische Recherchen GmbH in Innsbruck. Three years ago she found many many generations of the Hanns for me. She even found a letter in the Innsbruck parish records from the Archdiocese in Chicago notifying the Austrian parish in Ladis that Gottfried had died.
But Gottfried's mother (and my great-great-grandmother) Nothburga Schenk remained a mystery. Also, there was no baptism record for Gottfried in Ladis, but there was a confirmation record.
Here the story stops for three years. Until that Ancestry shaking leaf appeared in my tree a few weeks ago.

In the Ancestry.com Romanian database, I finally found my great-grandfather Gottfried's elusive baptism record.
He may have been born in Romania, but considered himself Austrian, because they moved back to the Tyrol region of Austria after his mother died when he was young. I found the baptisms of Gottfried's siblings: Ignatius, Maria Aloisia, and Joannes.
And then I found Nothburga's death record. She died at 38 of tuberculosis, leaving four small children and a widower behind in Romania. And her death record (at the beginning of this post) gave the farm and village where she was born.
Mag. Pfeiffer then searched the Schönwies Catholic parish records for me and found Nothburga's baptism and the names of her parents. Leonhard Schenk and Theresia Tragsail journeyed from the Tyrol to Rome to be married. The fathers of Leonhard and Theresia are recorded. Mag Pfeiffer notes that Leonhard and Theresia moved around a lot and practiced several trades, in addition to being devout Catholics.
And this is where I fainted and my husband had to get the smelling salts at the news that there were three generations behind that brick wall of mine, all found in one day.
So, thank you, Mag. Pfeiffer, for finding records in the Innsbruck diocese for me. Your persistence and skill and good humor wins the day. And thank you Ancestry for the ferocious algorithms that matched my Ancestry tree with that specific database.
Now I have a complete six-generation chart (in six European countries) at last and a complete seventh isn't too far behind. Join me in the genealogy happy dance!
*Full disclosure: I've never been a fan of the shaking leaves. I've seen too many friends and clients use them without understanding them. Result: complete confusion and snarly gnarly trees full of errors. But now I must admit one paid off for me. For more about using Ancestry's shaking leaves successfully, click here.