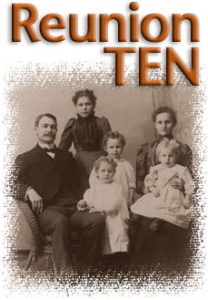 Using Macs & iPads for Genealogy is my latest genealogy guide. Click here for more information. And now for my Reunion 10 for Mac Review.
Reunion 10 for Mac gets a 10 from me. This is a wonderful upgrade to the previous version of the predominant family tree software for Mac users. Leister Productions, maker of Reunion for Mac, iPhone, and iPad, doesn't tease their users with constant upgrades to the software, so this new version is a big deal.
When Leister released Reunion 10 earlier this year, I decided to wait for a while for a variety of reasons – I was busy, I was grumpy about stuff moving around and shortcuts changing, version 9 worked fine, trees I manage for clients were very active.
Well, I confess today I was completely wrong to wait. This Reunion 10 for Mac review takes you through some of the new features, including GPS, an improved user interface, and new On this Date and Obituary reports. And all of the features that were available in v. 9 are still included.
1. GPS plotting for locations in your tree
Reunion has caught up with a feature that's been available in Windows-based software for quite a while. And I thought I'd been scrupulous about checking locations before entering, but I still had well over 100 locations that were misspelled, duplicated, or just plain wrong. And as I worked to clean up these locations, I also found ways to improve my research which led to breakthroughs. Yay!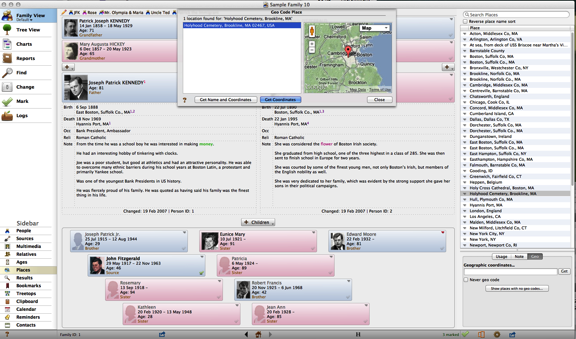 2. Improved navigation and user interface
On the right of the main family view window is the new navigation Sidebar that changes easily between People, Sources, Places, Multimedia, and nine other categories/functions. It's easy to search and to sort the results.
At the bottom left of the main window is a menu that changes the type of data displayed in the new right-hand Sidebar. Sources gives you a complete list, Multimedia shows all the images for a particular family member, and so on. This is a nice feature, but seems oddly placed. It's easier to change categories in the Sidebar by simply clicking and holding on the black arrow at the top of the section.
On the left side is the new Navbar, a set of shortcuts that enable quick switching between a Tree and Family view of your family data and quick access to tools to search, mark, and create charts and reports and access logs.

3. New Reports
On This Date and Obituary Report are new to version 10. On This Date lets you view the events in a selected family member's life based upon a selected date. For example, if you want to know how many living relatives your grandmother had the day she got married, you select your grandmother and the Reference Date and a complete list of your grandmother's living relatives that day is generated.
The Obituary Report generates a written obituary as it might have appeared in the newspaper, using the information available for that person, including spouses, children, and other relatives. It's great for comparison to an actual obituary to see if you've missed anything (or if the obituary writer did!) and it also is useful for sharing with other researchers.
4. Reunion v. 10 Demo
Download a demo version here. Limitations on the demo are:
Only 50 people can be entered in a family file
Import/Export is disabled
Charts and slideshows can't be saved
Printed output will be watermarked
Version 10.0.6 is the latest version, which came out a few days ago. Download here – very stable, no problems upgrading my 10,000+ person tree. And I should mention I have no financial interest in Reunion. I just like the product.