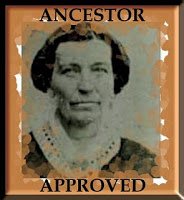 Sassy Jane is Ancestor Approved! I'm delighted to report that Kathy Reed of Jones Family Matters has selected this blog to receive the Ancestor Approved Award.
The
 Ancestor Approved Award was created in March 2010 by Leslie Ann Ballou of Ancestors Live Here to appreciate and enjoy geneablogs that are "full of tips and tricks as well as funny and heartwarming stories…."
 Recipients list ten things which surprised, humbled, or enlightened them about their ancestors, before passing it on to ten other bloggers. So here goes on my list:
1. I had no idea how recently all of my family lines came to America. All eight of my great-grandparents immigrated to this country in the 1880s from countries in Europe and Scandinavia.
2. By contrast, my husband is descended from very, very early New England stock in Connecticut and Maine and he had no idea about his ancestry.
3. My husband's great-great-great-great-great-uncle fought on both sides of the American Revolution.
4. Most of my immigrant great-grandparents died of public health diseases like tuberculosis and cholera.
5. When she was widowed at the age of 33, my Swedish great-grandmother took in washing and scrubbed floors to support a newborn and two children under the age of three.
6. I may have a couple of history degrees, but I certainly am ignorant about geography!
7. In order to survive during the Great Depression, my grandmother and her sister combined households. They owned a classic Chicago duplex and rented out the bottom apartment. Then 10 family members lived in the upstairs two-bedroom, one-bath flat: my great-great aunt, grandparents, father, uncle, and my great-aunt and her husband and three children.
8. All of the ancestors I thought were German turned out to be Prussians.
9. I'm proudest of having figured out where my unusual Norwegian last name comes from.
10. I still have so much work to do!
In the next few days, I'll be posting my top 10 nominees for the Ancestor Approved Award. And again, thanks to Kathy for this award.