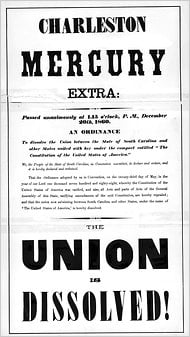 To commemorate the sesquicentennial of the Civil War, the New York Times has started a series called Disunion that revisits events on or close to their anniversaries 150 years ago.
The blog's intro reads:
"One-hundred-and-fifty years ago, Americans went to war with themselves. Disunion revisits and reconsiders America's most perilous period – using contemporary accounts, diaries, images and historical assessments to follow the Civil War as it unfolded."
Jamie Malanowski, who has been an editor at Time, Esquire and Spy, writes the entries.
I didn't have an ancestor in this country before 1882, but my husband's family is filled with soldiers who served and in some cases, became casualties of the Civil War. One of my New Year's resolutions is to follow Disunion this coming year to gain a better understanding of the war's causes and events.
If you'd like to play catch-up, the blog archives are located here.