Here's a fun new site: Historypin helps flesh out your place research. Using his online tool allows people to view and share vintage photos through Google Maps and Google Street View technology.
The site is produced by We Are What We Do, in partnership with Google. The goal is to become the largest user-generated archive of the world's historical images and stories.
Users can upload and pin vintage photographs onto the site's map and layer them onto modern Google Street View scenes, creating a timeline of views for the location. Stories for that location can be added as well.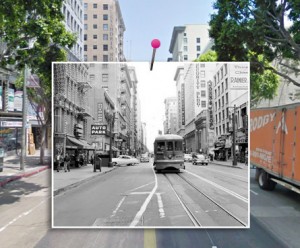 The photos currently date from 1840 to the present. At present, you can upload six photos using your Google account and a Picasa album. One of the project's goals is "bringing different generations and communities together to collect and share the history of their streets."
The website has over 200,000 assets and recollections "pinned" to the Historypin map around the world, with a high rate of contribution in the United Kingdom, USA and Australia.
In addition to individual contributions, institutions who are participating in Historypin include the National Archives in the US, Biggleswade History Society, Bishopsgate Institute, The John Lewis Partnership, Mirrorpix, The New York Transit Museum, PhillyHistory.org, The Ritz Hotel, Baltimore Museum of Industry and the Science and Society Picture Library and the Albright-Knox Art Gallery.
To learn more about the Historypin project, click here.
Visit the historypin.com map at: http://www.historypin.com/photos. To add photos to the project, click here.