UPDATE: The Family History Library has announced: "Online requests for photo duplication services of microfilm and books are no longer available." Click the link above for more information from FamilySearch.
_____________________
Did you know you can request free FamilySearch scans for specific records? The good people at FamilySearch.org have been offering to scan and email specific records from microfilm and books in their collections for free for some time. But FamilySearch recently unveiled a new online form for requests, so even if you have used the service before, this post can help you.
As you can see from the information you need to provide, the FamilySearch Photoduplication Service is not a research service. But when you know of and need a specific record from microfilm or a book, the FamilySearch Photoduplication Service eliminates the need to order the film and have it sent to you from Salt Lake City.
This has been a godsend when I've done research at the local Family History Center, but have been unable to scan a good copy of a record. It also can rescue you from a variety of technology mishaps or missing scans after a long week or so researching at the Family History Library.
Here's a real live research example:
I found an index entry for the marriage of my great-great-great uncle, Julius Caesar KIRSCHSTEIN to his wife, Auguste Mathilde HASFORDT, in Sandberg, Kr. Gostyn, Posen, Prussia, on 10 Nov 1841 at the Posen Marriage Project.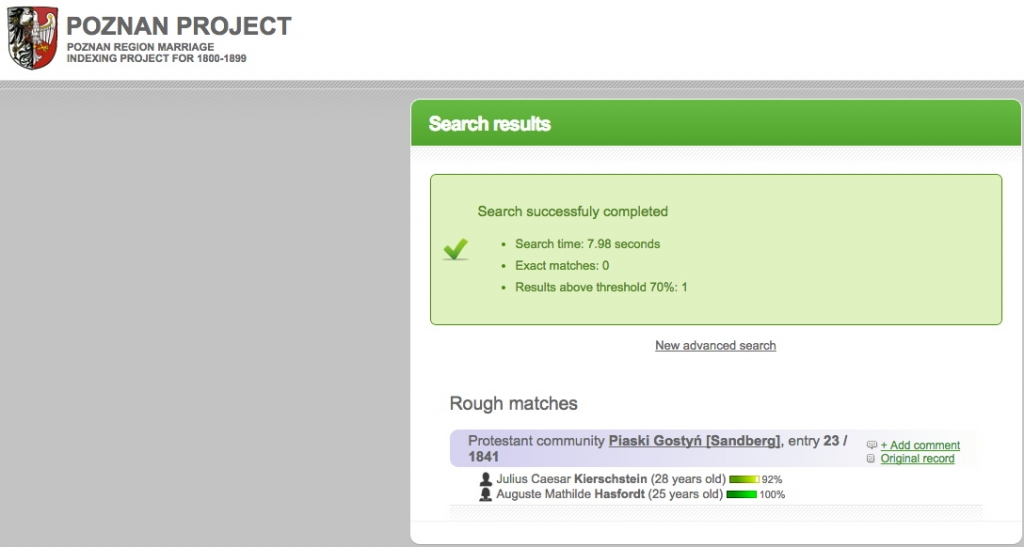 Using their information, I looked up the FamilySearch film number and I was able to request free FamilySearch scans using their online form:
Some caveats: requests are processed in the order they are received. Allow 4 to 6 weeks for delivery. Please do not re-submit your request a second time if you do not hear from FamilySearch immediately. And please provide the required information because of course the FamilySearch folks can't do actual research for you.
This service has already helped me several times, so I'll be delighted if it helps you, too.