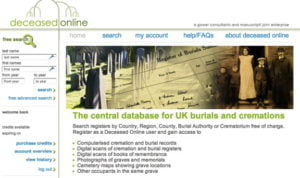 I had a great time today at the San Diego Genealogical Society's monthly meeting, seeing old friends and making new ones.
Just a quick note about the new (to me) database I mentioned this morning. It's DeceasedOnline.com.uk – Free Searches of UK and Republic of Ireland Burial Records (http://deceasedonline.co.uk/), a centralized database for burials and cremations in the United Kingdom and the Republic of Ireland.
Similar to ScotlandsPeople, you can search for free, but downloading actual records costs a certain number of credits. Available records include:
Digital scans of cremation and burial registers
Digital scans of books of remembrance
Photographs of graves and memorials
Cemetery maps showing grave locations
Other occupants in the same grave
My Scots line in Aberdeenshire is well represented in this database, so I have a lot of great new information for deaths and burials. Old Parish Registers in Scotland are very spotty for death records, so this is great news. I hope you have good luck with this resource, too.