The desire to find out more about our ancestors is the beginning of an adventure.
Interested in helping relatives with genealogy research?
Is there a relative you'd like to 

lure into giving up their spare time and money

 help get started?
Did a family member express interest in your shared family history over the Thanksgiving turkey?
Could their research help yours, but they don't know where to begin?
Do you want to get started on your own family history?
Want to clean up your own tree using standards you wished you'd known when you began?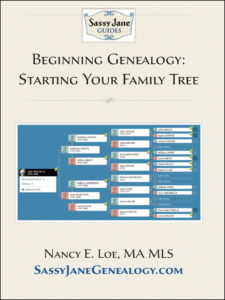 Beginning Genealogy: Starting Your Family Tree can help. This new Sassy Jane Genealogy Guide is a step-by-step guide for new and intermediate genealogists, illustrating the best practices of family history research. Established genealogy standards and my experience as a genealogy librarian/archivist fill this guide with useful information.
Whether you're brand new to genealogy research, are helping relatives with genealogy research, or you'd like to clean up the work you've done so far, this Sassy Jane Guide covers the essentials and more.
In addition to the personal insights you'll gain, as a genealogist you'll learn about history, languages, geography, ethnicity and culture, and everyday life in the past.
As the family historian, you'll also sharpen skills related to critical thinking and problem-solving. I can't think of another interest that spans so many areas.
First Steps
Family Tree Software
Genealogy Records
Genealogy Websites & Repositories
Learning Terminology
Ten Tips for Your Family Tree
Whether you're helping relatives with genealogy research or beginning your own tree, this Sassy Jane Guide can help.